It was great to see some of you guys out there. The launch was very nice and Will Mallett and I were ready well before the 0530 launch time. We were the first anglers in the water and when 0530 hit, we were gone! We fished the area around the launch on the way out to the Gulf. It looked very fishy, but nothing was biting. The tide was high and moving fast so there should have been fish there. Will and I started in the direction of Fillman Bayou and fished on the way. We came to the mouth of a tidal creek and there were fish everywhere.
 I hooked into a decent trout that got away boatside, and then a ladyfish. I slowed down and started taking my time. I was rewarded with a decent lady fish. There were no reds in the area so we moved on. Once we got to the bayou, I tossed a gulp bait into the channel which was the only deep water around. I started hooking up on trout right away, but they were swallowing the bait and I ended up killing one because he was hooked too deep. I switched back to DOA shrimp and they were still biting. I caught a 16"er and Will scored one 16 1/2". I tried looking everywhere to find reds, but there just weren't any. We began the long paddle (1 1/2 hours) in the sweltering heat back to the launch. It seems eveyone had a hard time finding the fish. There were some trout and some ladyfish weighed in, but no reds. I figured I had a shot a 4th or 5th. Will ended up with 5th with his trout!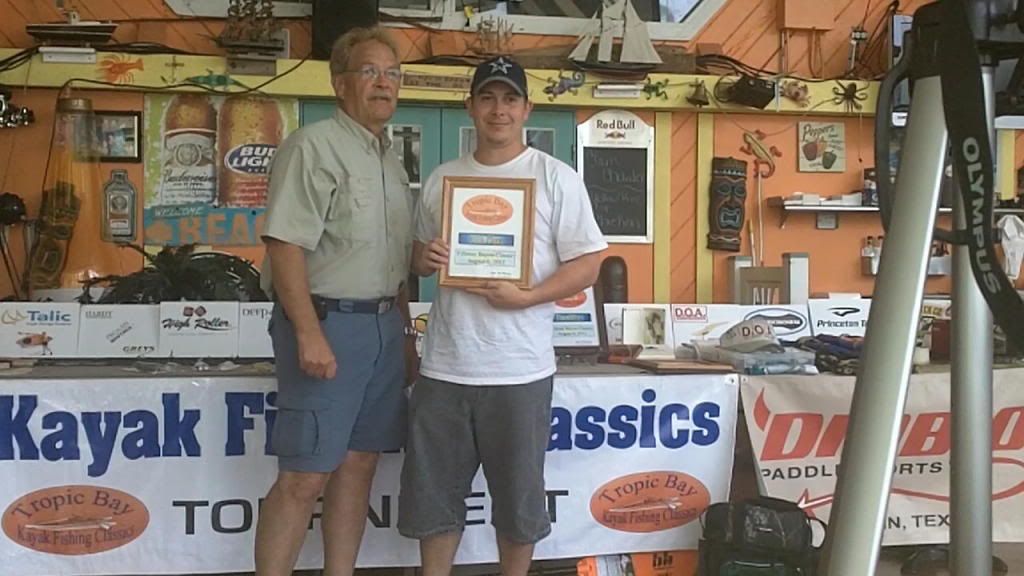 I was very surprised to find out my catch was enough for 1st place! It was very hot and very tough fishing out there. I always say, weigh in whatever you catch because you never know what other anglers are doing. It worked out for me this time and I recieved some very nice prizes from Capt Pat. I kinda wish we had taken some better fishing pics, there are all we have! Tight lines!