Went over to Jacksonville April 29, 2009 to pre-fish the Catch Photo and Release Jaxkayakfishing tournament. It's the worlds largest kayak fishing tournament with over 430 participants from as far away as England competing for prizes and supporting Daniels Kids. Daniels kids provides foster care support for children. We arrived on Wednesday night and 6 of us sat around and made a plan of our fishing for the next two days of fishing and for the day of the tournament. We decided to pre-fish just a few miles west of the location we planned on fishing he tournament and it would give two people the opportunity to familiarize themselves with the conditions and the water. I paddled the 2009 Tarpon 140 and Preston and his father paddled the 2008 Ride 135. We went out and had a spectacular day of pre-fishing catching and releasing a 20" Flounder a 27.5" Trout and lots of Redfish over 25" long giving us a lot of insight into how well we could do on tournament day. We grinded all day Thursday and attended an event as guest of the Hobie Kayak Fishing team where we were served an excellent low country shrimp boil presented by Frank Greggs wife on the beautiful West Chicopit Bay. The next day we optioned to fish the same spot since we were not fishing there on tournament day. We did even better that day, and cut it short to get some gear cleaned and oiled. We arrived that Friday night to the Captains meeting and hung around with over 430 anglers telling lies and projecting how much better they were going to do the next day. We ended up getting to bed around midnight that night and waking up at 4:00 am the morning of the tournament. We ran though a checklist of our gear, and went back to the same place we pre-fished all week. We decided that the place we planned on fishing had fewer opportunities to complete our slams and three went there, and three went to the same spot we fished the last three days. Turned out to be a good decision since one of the other three , Preston Chapman, joined us after catching what turned out to be the biggest redfish of the tournament. He also had a small flounder but no trout. Jason and myself had scored our slam before 11:30 that morning and spent the rest of the day grinding for an upgrade. Jason upgraded to 57.9" and I ended with 58". Not enough to win. But that morning I had talked with Erick Bell at the ramp, also on the Wilderness Systems Kayak Fishing Team, and he won the big trout category with a 27.5" Trout. Erick paddled the Tarpon 140. I ended up with 6th place in the tournament. Not a bad finish, but not as good as coming in 1st.
ME (Jeff Suber), Liam Callaghan, Jason Callaghan, Preston Chapman
Results of the 2009 Tournament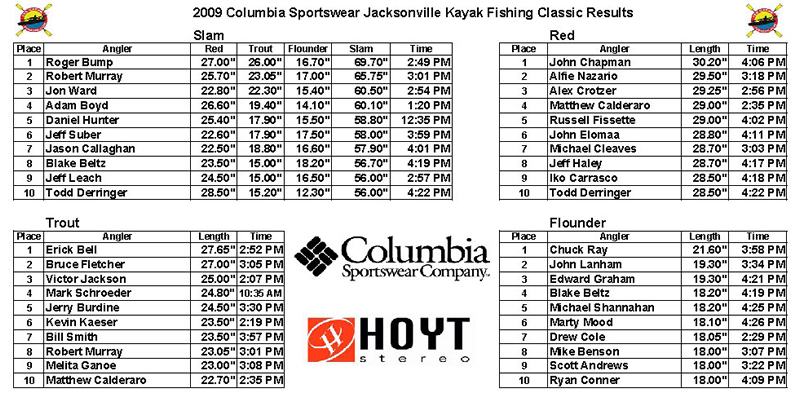 Upthecreek(Chappy, Preston Chapman) gets the 1st place Big Red at 30.5"
Erick Bell of Wilderness Systems Team wins big Trout with 27.5" Trout.